SUPPORT US BY VISITING OUR "MY CAUSE" PAGE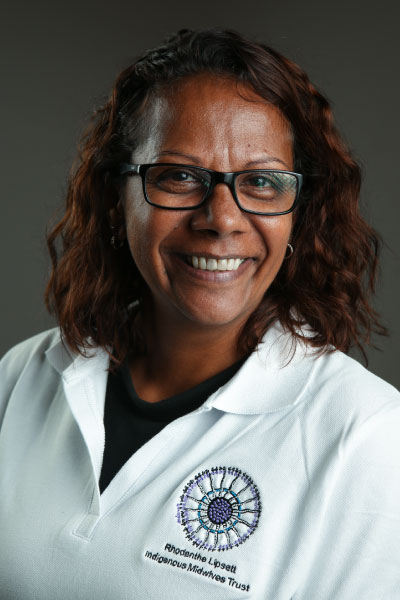 Leona McGrath
Co-Chair – Board of Trustees
I am an Aboriginal woman, mother, registered midwife and passionate advocate for the development of midwifery as a recognised and respected career choice for original people. I accepted my invitation to join the Board of Directors as I believe I bring skills and experiences that will assist us in achieving our vision to improve the outcomes and experiences for Indigenous women, children and families as they negotiate acceptable and appropriate maternity care across Australia. Currently, there is a huge shortage of midwives to provide care for Indigenous women during pregnancy, childbirth and the important postnatal period – the 1st 6 weeks of the baby's life. This is extremely felt outside of urban areas. In rural and remote Australia, in many cases women have to travel hundreds of miles to receive routine care or else be forced to relocate to a city centre to await the birth of their baby, removed from their family and their culture. On a personal note, whilst having my children I believe I would have had a more rewarding experience if I had another black face in the clinic or better still, whilst I was giving birth. This fund will help more Indigenous students realise their dreams of becoming midwives and for them to be able to go back and help their communities.
I believe the scholarships offered through the Trust will make a difference to the student's experience whilst studying. I remember when I was a student the challenge of having to juggle studies, life, family and finances sometimes became so difficult, being able to assist student with incidentals will make a huge difference for some people!!
The Trust can make a contribution to closing the gap and help Rhodanthe's vision to encourage and support Indigenous students to realise their dream of becoming midwives. I am incredibly proud to be associated with the Trust.
WE NEED YOUR SUPPORT
If you would like to support our cause please visit our fundraising page at "mycause" to make a donation.